A little bit about us…
Hello my name is Peter, founder and director of PetsHealthRus Pty. Ltd.
Along with my business partner, a trained veterinarian, we have extensive experience in the pet supplement industry, including marketing and sales, have managed and owned companies and startups and our current business focus is on our pet-health range for dogs & horses.
Until now, our products have been sold under the brand name Dr. Jack's, however we are now known as PetsHealthRus.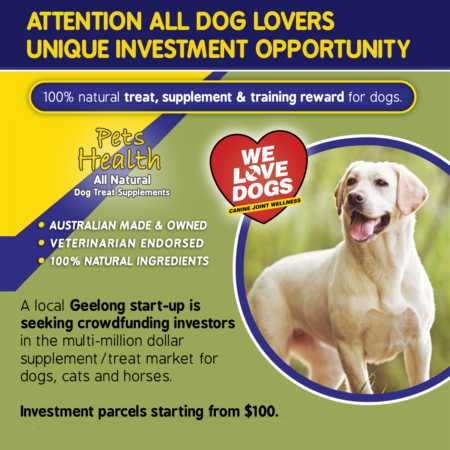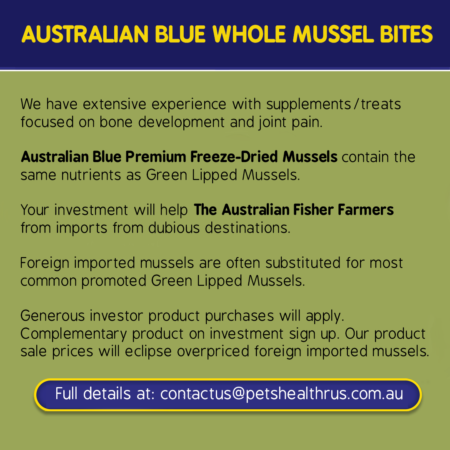 China bans all exports from our contract manufacturing company – including our products. All our products removed from sale.
Unfortunately, this is the stark reality of business in these uncertain economic times.
The images of our Pharmaceutical grade products shown below (with the exception of Australian Blue Mussel Chews) had to be removed from sale.
Fortunately one of the components in our formulation is Green Lipped Mussels imported from New Zealand which does not require milling into powder was not banned.
Australian Blue premium freeze-dried Mussels contain the same nutrients as New Zealand Green Lipped Mussels.
Hence to recover from this set back we have decided to challenge the dominance of New Zealand Green Lipped Mussels to help protect and support the Australian Fisher Farmer from all foreign imported mussels from dubious destinations.
Foreign imported mussels are often substituted for overpriced Green Lipped Mussels.
Please take a look at the investment opportunity we are offering.
Buy Australian Made, Buy Aussie Now. We will announce when China allows us to resume selling the products that they have banned.
Our Products